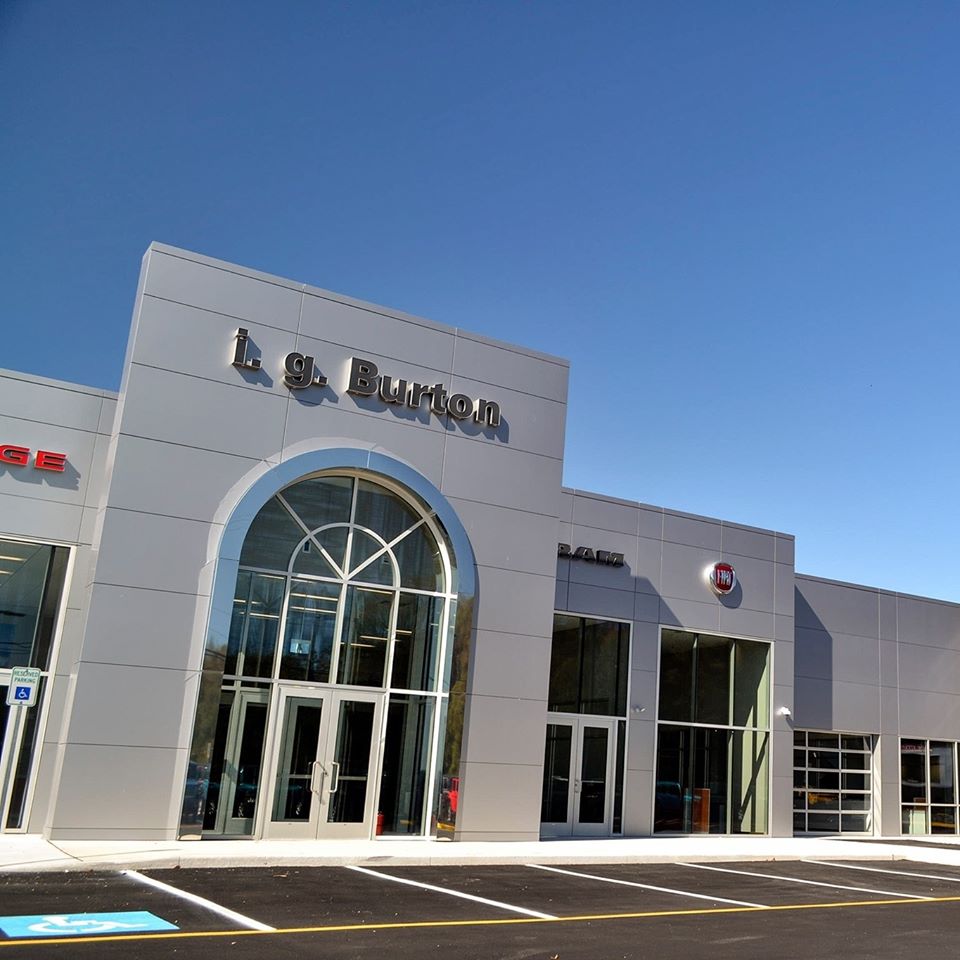 Welcome to i.g.Burton Chrysler Dodge Jeep

1908 was an important year for the Burton Family. In that year General Motors was formed to manufacture a new invention, the automobile. Fred Burton and his father, Captain Theodore Burton, decided to enter the automobile business. Also, in that year, Freds son Irwin G. Burton was born. From that time there has always been a descendent of Captain Theodore and his son Fred in the automobile business on Delmarva. David Burton is the fourth generation automobile dealer and Charles and I. G. III are the fifth generation! The Burtons and the automobile have been together since the very beginning.
Over time there have been many turns and changes in the history of our company. The first cars sold were Maxwell, followed by Buick, Ford, Vim Truck, Briscoe, Chevrolet, Oldsmobile, Mercedes-Benz, BMW, Navistar, Bluebird Bus and the Chrysler line. In 1962, the National Automobile Dealers Association named Irwin G. Burton the Outstanding Dealer in the nation. All of this has been quite an experience but our success is not just due to the effort of the Burtons but to that of so many others who, over the years, have built the company into what you see today.
Let us introduce you to  our staff, show you some of our  special vehicle offers, and take you through our complete line of  new and  pre-owned inventory. We can help you find exactly what you are looking for.
We know your time is valuable. We are sure you will find our site a fast and convenient way to research and find a vehicle that's right for you. If we can be of any assistance while visiting us online,  send us an email and we will promptly reply.

The staff at i.g. Burton proudly offers the newest Chrysler, Dodge Fiat and Jeep cars in the Milford, DE region. We also carry an impressive selection of pre-owned cars, trucks and SUVs by the industry's top manufacturers. Our experienced sales staff can point you in the right direction based on your individual vehicle needs. We also offer competitive financing, top tier service and a fully stocked inventory of Chrysler, Dodge and Jeep Fiat automotive parts.
About i.g. Burton Chrysler Dodge Jeep, Proudly Supplying New Chrysler, Dodge, Jeep, RAM and FIAT Models in Milford, Delaware
Whether you're from Milford, Dover, Millsboro DE, Salisbury MD, Easton MD, Georgetown DE or anywhere in between, you can rest assured that when you shop for a new or used Chrysler, Dodge, Jeep, RAM or FIAT, you're shopping for quality and reliability, no matter which model appeals to you.
Qualifying for a loan or Chrysler, Dodge, Jeep, RAM or FIAT lease couldn't be easier with our on-site financial enthusiasts at your back. We know all of the ins and outs of finding quality financing solutions, and that means you can spend less time going over paperwork and more time enjoying your new car.
Once you're behind the wheel as an owner, i.g. Burton Chrysler Dodge Jeep continues to support your driving needs through our onsite service center. Our team is well-versed in everything automotive and utilizes the latest Chrysler, Dodge, Jeep, RAM and FIAT parts, so you can count on solid routine maintenance and timely repairs when they're needed.
When you can come to i.g. Burton Chrysler Dodge Jeep, you can have your Chrysler, Dodge, Jeep, RAM and FIAT wishes granted. And let's face it: you deserve nothing less. Located on 605 Bay Road in Milford, Delaware, we know our job isn't finished until you're completely satisfied.