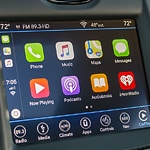 The new Chrysler 300 is a luxury sedan that's become very popular among people of different age groups. This car yields some of the finest of styling for its exterior, and its interior is lavishly sophisticated. Consumers can choose from numerous trim levels as well as choose from numerous exterior paints.
The new Chrysler 300 has a booming Harman/Kardon audio system. This audio system comes equipped with a powerful subwoofer for deep-pounding bass. In addition to that, there are 19 strategically placed speakers. You can listen to music the way that it was intended to be heard. The driver or passenger can even pair their smartphone with the system to listen to popular tracks. It also doesn't hurt that the new Chrysler 300 is equipped with Apple CarPlay and Android Auto technologies.
The new Chrysler 300 is on full display in our showroom, so be there or be square.